The Project
"West Coast Landbase Pvt. Ltd". and "West Coast Landbase Construction Pvt. Ltd" have projects, named as – 'RIVERDALE' & 'RIVERDALE HEIGHTS'. Riverdale. Land acquired by companies is being offered as plots for residential and commercial purposes. Buyers can either build their independent residential areas on these plots or can even lease to hotels in search for projects.
Current Status
The projects are planned to be spread over an area of about 100 acres - comprising a boutique hotel, a small market, independent villas, clubhouse, lake etc. The land has abundant natural water sources. There are several Wells and Natural Springs within the complex. Out of 100 Acres, 85 acres has already been acquired by the company(s) and Registered.
All required permissions from the appropriate authorities such as Maharashtra Tourism Development Corporation, Gram Panchayat, Town Planning Department, Forest Department, MSEB etc. have been obtained and development work has been completed.
In the Year 2014, "Completion Certificate" have also been obtained for 'RIVERDALE' from appropriate authority nd 'RIVERDALE HEIGHTS', is registered under RERA.
Our Location
The Projects are being developed on the Banks of River 'Terekhol', which is situated on the border with North GOA, located in 'Sindhudurg' district of South Maharashtra, which is a major thrust area of Maharashtra Tourism Development Corporation (MTDC) to promote tourism activities. The area is also well known for promoting tourism industry. Prominent hotel chains like Taj, 4 Seasons, Cidade de GOA, etc have come up in close proximity.
'Querim' beach is located at a distance of about 7K.M. from site whereas Morjim, Ashveem, and Arambol beaches are just 15 to 20 minutes drive from the site. 'Aroli' & 'Shroda' white sand beaches are 8-10 km away. 'Fort Aguada' and 'Panjim' are 40 minutes' drive from the site.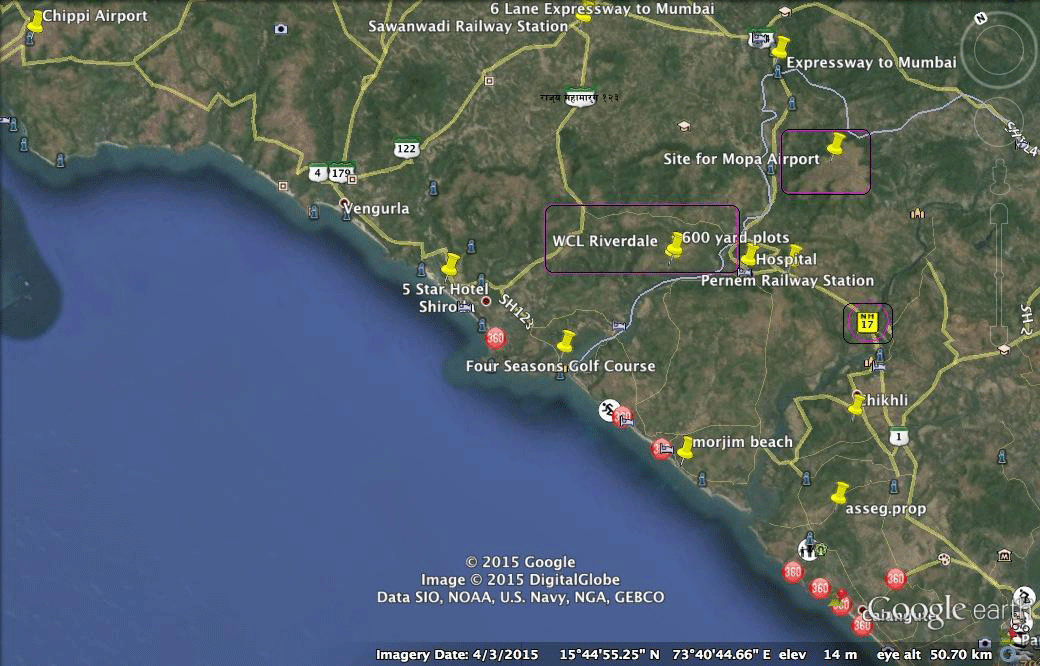 Connectivity
From the site, NH-17A and New Mumbai-Goa expressway are just 6KM 'Pernem' the nearest town, which is at a distance of 8KM. Railway Station is 12KM away. Not just that, but you wouldn't have to think twice before commuting to another city as the Goa Airport – Dabolim – is just at a distance of an hour.
The new upcoming International Airport MOPA is just 12 KM away from the site. Furthermore, 'Chippie', a domestic airport is at the distance of 25-30KM
Other Projects in Vicinity
One of the prominent hotel groups, CIDADE, has already constructed a 5-star hotel at Shrioda beach, which is said to commence its operation by the coming season. Apart from this, the 'Taj Group' is coming up with a Star hotel at Aroli. 'Leading Hotels' is coming up with a 300 Acre development with PGA standard Golf Course, Villas, and 5 Star Hotel under the management of 'Four Seasons Group'. The work has already started and this is just at 9KM from the our site.
The Offer
We are offering Non- Agricultural plots with permittable usage as 'Commercial/Residential. Its a gated complex having Plots available in different sizes ranging from 600 Sq. Yards onwards. Alloweable Coverge is 33% of the ground area which can be built upto 3 Floor Plates. (i.e. FAR of .99%)
Recommendation
There are several reasons to invest in the projects as they are just 12 KM from the International airport i.e. MOPA, which is going to be fully operational by 2019. All the concerned government authorities the Centre and State level have given approvals and sanctions for the airport. The work has already started in full swing and would be operational by 2019, handling passenger load of around 4.4 Million annually.
Since construction activity near any beach in GOA is not allowed and recently all Casions operating in GOA have also been ordered to be shifted to MOPA by the state Govt. Of GOA.
This site is actually in Maharashtra, where there are no title deeds and succession issues as in the case of Goa, where title deeds can be in Portuguese.